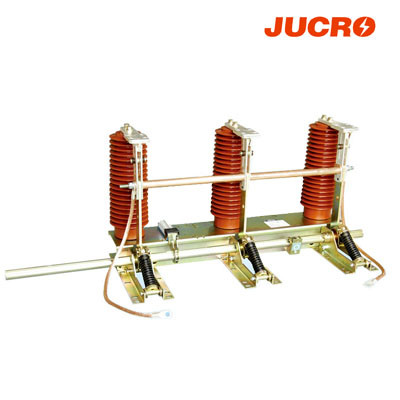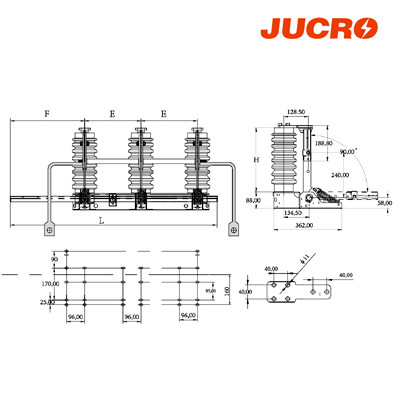 JN22B-40.5/31.5 Indoor high voltage AC grounding switch earthing switch from JUCRO Electric
Description
JN22B-40.5/31.5 Indoor high voltage three-phase AC grounding switch earthing switch from JUCRO Electric

JN22B-40.5/31.5 indoor high voltage grounding switch (hereinafter referred to as grounding switch) is a new product developed by the company. Its performance meets the requirements of national standard GB1985-2004 "AC high-voltage isolating switch and grounding switch" and IEC62271-102:2002. It is applicable to three-phase rated voltage 40.5kV, AC 50Hz power system, and KYN61-40.5 high voltage switch. Cabinets and other high-voltage switchgears are used together as a grounding protection for high-voltage electrical equipment maintenance.
The JN22B-40.5/31.5 indoor high voltage grounding switch is improved on the basis of the above grounding switch. The structure is simple and compact, the performance is consistent, and it is easy to operate at a small angle. As with the JN15-12 series, JN15-12 connections and transmissions are available.

WORKING CONDITION
1. The altitude does not exceed 1000m:
2. Ambient air temperature: +40°C ~ -20°C;
3. The earthquake intensity does not exceed 8 degrees;
4. Installed in a place where there is no fire, explosion hazard, severe dust, chemical corrosion and severe vibration.

MAIN TECHNICAL PARAMETERS
Rated short-time withstand current

Rated withstand current(peak value)

Rated short-circuit making current

Power frequency withstand voltage(1 min)

Lightning impulse voltage
Phase to phase distance A

F

The height of the sensor for plateau type H

Below 1000 meters 145

Below 2000 meters 170

Below 3000 meters 185

Below 3000 meters 210

300

340

350

340
OVERALL AND INSTALLATION DIMENSIONS