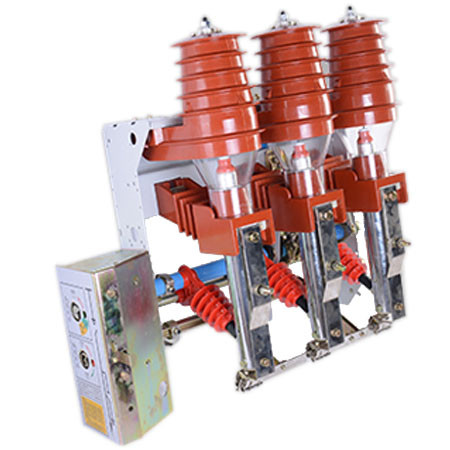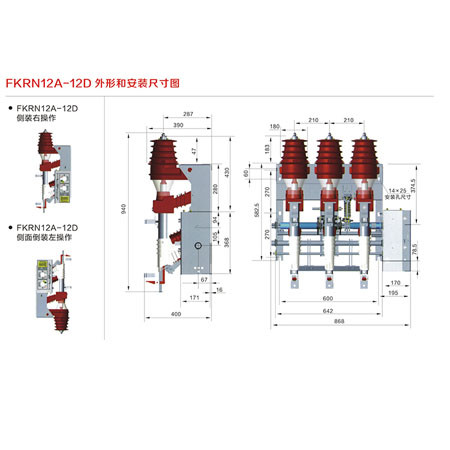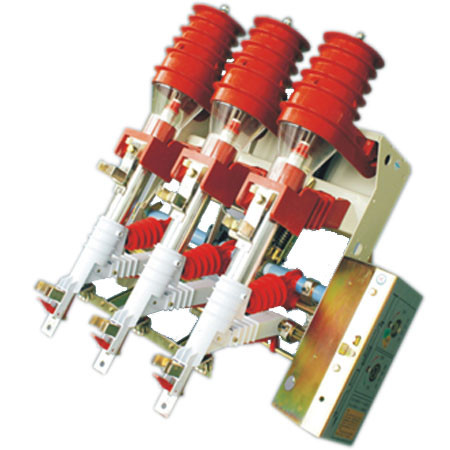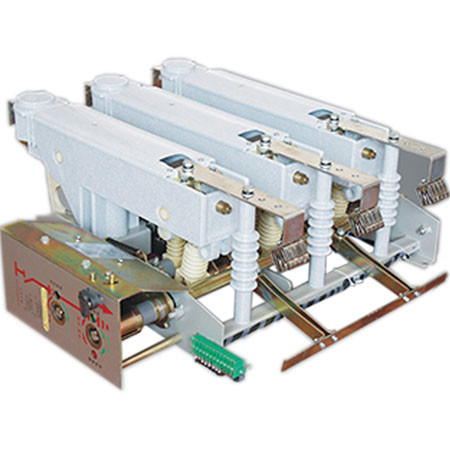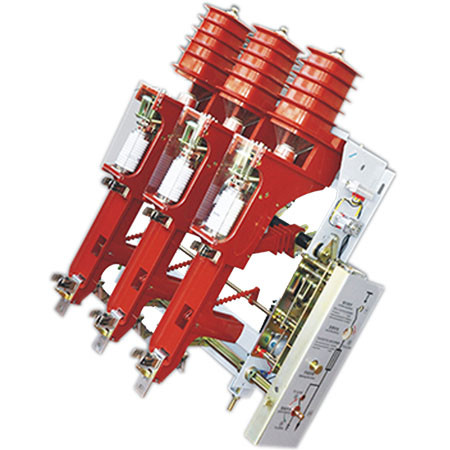 Load Switch-fuse Combination FKN12A-12(D)/T630-20 FKRN12A-12(D)/T125-31.5 AC high voltage gas production load switch/High voltage
Model

FKN12A-12(D)/T630-20 FKRN12A-12(D)/T125-31.5
Description
F KN12A-12 (D )/T630-20 FKRN12A-12 (D )/T125-31.5 AC high voltage gas production load switch/High voltage load switch-fuse combination
FKN12A-12D gas production load switch, FKRN12A-12D series gas production load switch-fuse combination electric appliance, is a new series of switches and equipment developed by our company. It is suitable for 12KV and below three-phase power distribution system, as transformer, cable and overhead. It is used for the control and protection of power equipment such as lines; it is especially suitable for terminal substations and box-type substations in urban and rural networks. It is also suitable for the control and protection of ring networks and dual radiant power supply units.
FKN12A-12D series gas production load switch can divide load current and adoptive current.
This series of products has the characteristics of compact structure, reasonable design, reliable interlocking and high insulation level; The spring energy storage operating mechanism makes the opening and closing speed unaffected by the operator's operating force; The arc is extinguished in the bell-shaped insulating cover, and the free gas during arcing does not cause a decrease in the insulation strength between the phases or the ground. Adopting the arc-ignition needle and plum-shaped contact of copper-tungsten alloy, the switch is reliable in conduction and long in electrical life. This series of products is easy to maintain, easy to operate, reliable in operation, and won praise from users.
Working condition:
1. Ambient air temperature: -25 ℃-40 ℃;
2. The altitude should not over 1000mm;
3. The daily average relative humidity is not more than 95%, and the monthly average is not more than 90%;
4. The earthquake crack does not exceed 8 degrees;
5. No fire, explosion hazard, chemical corrosion and severe vibration;
6. Pollution level: class 2.
Main technical parameter
No.

Item

Unit

参数 Parameters

1

Fracture opening

mm

≥175

2

Interphase center distance

210±2

3

Interphase air gap

≥125

4

travel

210±4

5

Over travel

≥40

6

Three-phase closing

ms

≤0

7

Three-phase opening

≤5

8

Shunt release inherent breaking time

40-65

9

Main loop resistance

μΩ

≤130
Mechanical properties
No.

Item

Unit

FKN12A-12D

FKN12A-12D

1

Rated voltage

KV

12

12

2

Rated Frequency

Hz

50

50

3

Rated Current

A

630

125

4


Rated insulation level


1min power frequency withstand voltage

On the groud

KV

42

42

Fracture

48

48


Rated lightning impulse withstand current(peak)


On the groud

75

75

Fracture

85

85

5


Rated short-time withstand current (heat-stable current )


Load switch

KA

20

Grounding switch

20

6


Rated short circuit duration (Thermal stabilization time )

Load switch

S

4

Grounding switch

2

7

Rated short circuit closing current (peak)

KA

50

8

Rated breaking current


Active load breaking current

A

630

Closed loop breaking current

630

Cable charging current

10


Breaking the capacity of the no-load transformer


KVA

1250

9


Rated short-circuit breaking current (current limiting fuse)

KA

31.5

10

Rated transfer current

A

1200

11

Mechanical life

Times

2000

2000