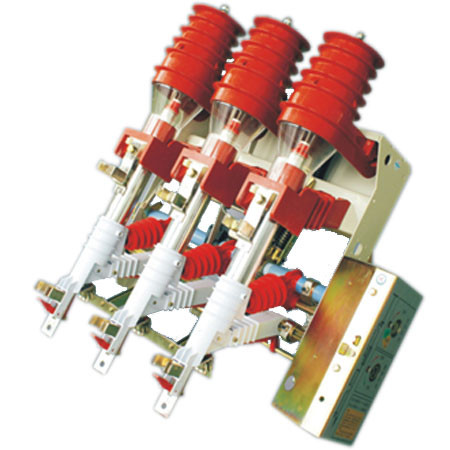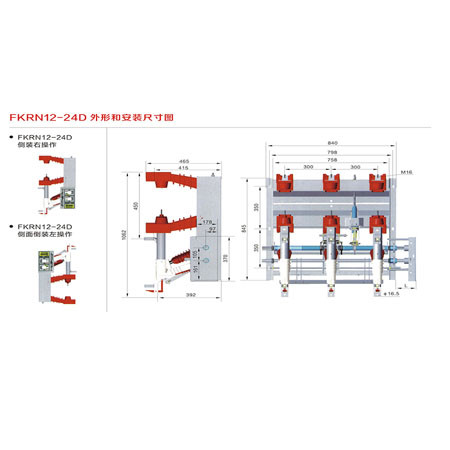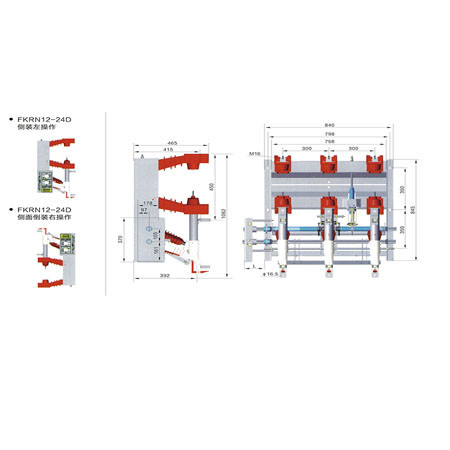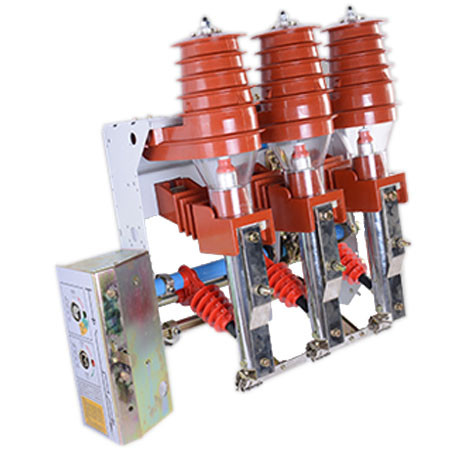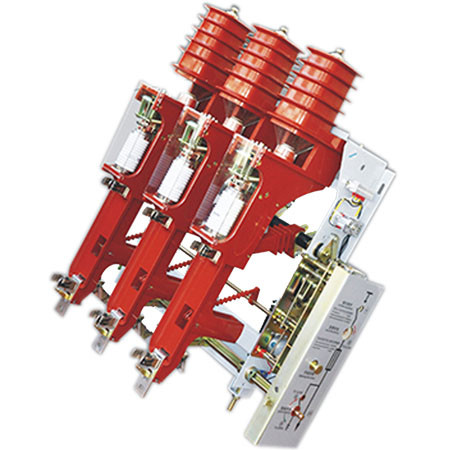 Load Break Switch FKRN12-24D series high pressure gas pressure from JUCRO Electric
Description
FZRN12-24D series high pressure gas pressure load switch from JUCRO Electric
FZRN12-24D series high pressure gas pressure load switch and its combination electric appliance are AC 24KV, 50Hz indoor high voltage switchgear. The load switch has the characteristics of high technical parameters and reliable operation. The basic form of the operating mechanism is manual spring energy storage type. It can be equipped with electric spring operating mechanism, based on the principle of air pressure and arc extinguishing, so it can be divided multiple times without replacing the arc extinguishing tube.
The high-voltage load switch can close, load and break the load current under normal circuit and has the ability to close the short-circuit current and carry the short-circuit current for a specified time.
The FZRN12-24D series load switch can be equipped with a grounding switch. The grounding switch has the same short-circuit current closing capability as the load switch, as well as dynamic thermal stability, and has a strict mechanical interlock with the load switch, which is structurally impossible misuse.
Normal use environment:
1.Ambient air temperature: -25°C-+60°C
2.Altitude: no more than 1000mm.
3.Ambient temperature: up to +40 ° C, minimum -10 ° C
4.Relative humidity: daily average is not more than 95%, monthly average is not more than 90%
5.Earthquake intensity: less than 8 degrees
Main technical parameter
No.

Item

Unit

FKN12-24(D)/630

FKN12-24(RD)/125

1

Rated voltage

KV

24

2

Rated Frequency

Hz

50

3

Rated Current

A

630

125

4

lightning shock resistance current

KV

Earth and phase125 Isolation fracture145

5

1 minpower frequency withstand voltage

KV

Earth and phase65 Isolation fracture79

6

Rated the thermal stability of current

KA

20

7

Rated current dynamic stability

KA

50

8

Rated closing current (peak)

KA

50

9

Rated short-circuit breaking current

KA

31.5

10

Rated transfer current

A

1200

11

Maximum breaking current (peak)

A

1500

12

Breaking the capacity of the no-load transformer

KA

1250

13

Rated cable charging current

A

10

14

Rated active load current start count

Times

>100

15

The impactor triggers the load switch opening time

S

<0.06

16

Grounding switch thermal stability current

KA

20

17

Grounding switch dynamic steady current (peak)

KA

50

18

Electric operating power supply voltage (AC/DC)

V

110、220
Mechanical property parameter
No.

项目 Item

Unit

FKN12-24(D)/630

FKN12-24(RD)/125

1

Moving contact total stroke

mm

295±5

2

Moving contact overtravel

mm

35±2

3

Auxiliary contact opening distance

mm

>240

4

Three-phase closing synchronization

ms

≤12

5

Three-phase trip closure

ms

≤7

6

Just dividing speed

m/s

≥2.5

7

Rigid speed

m/s

≥2.5

8

Grounding switch break distance

mm

230±5

9

Main loop resistance

μΩ

≤180

≤400

10

Maximum operating torque

Nm

<160

<180
Outline technical parameter